Our Reach
">
Million Monthly Web & App Sessions
Million Active Email Addresses
National Bestsellers in the Past 10 Years
The Salem Audience - Engaged, loyal and ready for business!
More likely to have a total household income of $250,000 or more (News Talk Audience)
More likely to buy a major appliance in the next 12 months
Made purchases of $500+ online in the past year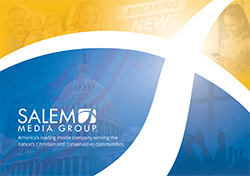 In this directory you will find the voices and personalities who comprise the heart of Salem Media Group. They are making an outstanding contribution to the resolution of cultural and policy challenges facing the communities we serve. It is through their efforts that we are able to meet the needs and interests of our growing audiences.
Success Stories
"For over 19 years, Salem Media and Food For The Poor have worked together to help change the world and bring hope to the poorest of the poor throughout the Caribbean and Latin America.  By connecting the need for the very basics of life such as food, water and housing to the overwhelming generosity of their listeners,  this valued partnership has radically impacted the lives of hundreds of thousands of families.  Whether it is a community in Haiti plagued by drought, children in Guatemala in desperate need of food and water,  or a neighborhood in the Bahamas wiped away by monster storm Dorian, year after year, we have seen Salem leverage all of its professional expertise to meet and even exceed our goals so that more families are rescued. Our relationship with Salem Media is a true partnership of the spirit to save the lives of those in need in the name of Jesus."
Alice Marino, Director of Media Marketing
~ Food For The Poor
---
"Salem Web Network delivers consistent results via their well-maintained email lists, over and over again."
Suzie Cross, Assistant Marketing Manager
Revell, a division of Baker Publishing Group
---
Salem Media Group has surpassed our expectations purposing to saturate the U. S. market. Their quick, timely, and communicative approach has been a pleasure, so we look forward to great continuing success with the Salem team.
James I. Nienhuis www.genesisveracityfoundation.com
~ Genesis Veracity Foundation