America's leading media company serving the nation's Christian and conservative communities.
About Salem Media Group
Salem Media Group is America's leading radio broadcaster, Internet content provider, and magazine and book publisher targeting audiences interested in Christian and family-themed content and conservative values. In addition to its radio properties, Salem owns Salem Radio Network, which syndicates talk, news and music programming to 3200 affiliates; Salem Radio Representatives, a national radio advertising sales force; Salem Web Network, a leading Internet provider of Christian content and online streaming; and Salem Publishing, a leading publisher of Christian and conservative themed books and magazines. Salem owns and operates almost 100 radio stations, with 30 stations in the nation's top 10 markets – and 63 stations in the top 25 markets. Each of our radio properties has a full portfolio of broadcast and digital marketing opportunities.
Company Leadership
Executive Management
Stuart W. Epperson
Chairman Emeritus
Edward G. Atsinger III
Executive Chairman
Dave Santrella
Chief Executive Officer
David Evans
Chief Operating Officer
Evan D. Masyr
Executive Vice President and Chief Financial Officer
Christopher Henderson
Executive Vice President, Legal and Human Resources, General Counsel and Corporate Secretary
Board of Directors
Edward G. Atsinger III
Executive Chairman
Eric H. Halvorson
Director
Richard A. Riddle
Director
Heather Grizzle
Director
Ted Atsinger
Director
Jacki Pick
Director
Stuart Epperson Jr.
Director
Salem Christian Media
Providing the hope of the Gospel around the world and across the block through a variety of media:
Salem Conservative Media
Salem is a growing powerhouse in the conservative media marketplace. Salem's voices offer insight and an informed perspective on breaking news, political developments and cultural trends.
A Note From The Founders
On this website you will find information about the voices and personalities who comprise the heart of Salem Media Group—the nation's leading media company specializing in Christian and conservative content.  Salem was founded in 1974—combining the radio assets of Edward Atsinger, III and Stuart Epperson, Sr. Their mission was to provide the best outlets and platforms for the Christian message. That message and the conviction for excellence remain the driving forces for Salem today as we serve a loyal, dedicated and growing audience numbering in the tens of millions nationally.
With our unique focus, Salem provides compelling content from some of the most respected figures across the Christian and conservative media landscape. They have helped Salem demonstrate leadership in the rapidly changing new media environment.  With the launch of Salem Podcast Network and Salem News Channel, we continue to develop new products to grow our audience and our impact across the nation.
Salem owns and/or operates over 100 radio stations, with over 60 in the nation's top 25 media markets. Each month, Salem has over 84.5 million app and web sessions per month.   Through our National Programming department and our Christian Teaching and Talk formatted radio stations and OnePlace.com, Salem has partnered with the nation's leading Christian communicators to bring a message of hope.
On this website you will also learn about Regnery Publishing, the nation's longtime leader in conservative books—now expanded to Christian books through the Salem Books imprint. Salem's multitude of news and public affairs outlets include: seven nationally syndicated talk shows, 50-plus local and regional talk shows, SRN News, Townhall.com, HotAir.com, RedState.com and PJMedia.com.
It is our objective to continue to expand our platforms for the content we are passionate about. Ideas have consequences—and many of the ideas and values promoted through today's popular media and through government have contributed to destructive outcomes. We are convinced that the voices and personalities in these pages are part of the solution.
EDWARD G. ATSINGER III
STUART EPPERSON, SR.
Downloadable Resources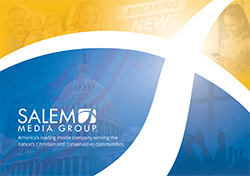 Salem Media Group Resource Guide
Find information about the voices and personalities who comprise the heart of Salem Media Group—the nation's leading media company specializing in Christian and conservative content.