Christian Apps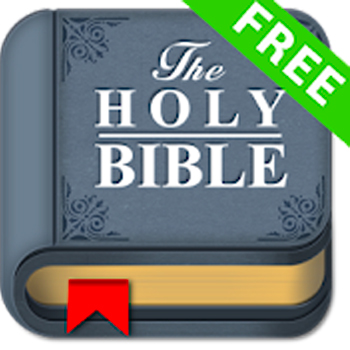 King James Bible
Get closer to God with this King James Bible app for Android. Also known as KJV Bible, this bible app contains the King James Version of the Bible, also known as the Authorized Version. There are many Bibles to choose from and this version is chosen as one of the most read Bibles available.
King James Bible or KJV, is an English translation of the Christian Bible by the Church of England begun in 1604 & completed in 1611. Other Bibles are later translations.
★★★★★ More than 190,000+ FIVE Star reviews! ★★★★★
Join millions of satisfied users in using this app.
READ, LISTEN & STUDY THE BIBLE
★ Offline Bible
Works offline. Read even without internet access other Bibles can't to that!
★ Bible Widget
Get inspired daily with a Daily Bible Verse of Day widget
★ Audio Bible
Have the Bible read to you! Just go to the reading section and click on the Audio button, which is next to the font change button. (Beware though it can get quite loud, so do tune the volume)
★ Daily Bible Verse
Start your day with a Daily Bible Verse or Browse the Book of Day
★ Bible Study
Study the bible with our easy to use interface. Browse by books, chapters, verse. Highlight your favorite Bible verses and easily access them in future
★ Bookmarks
Use the favorites feature to save or bookmark your Bible study & quickly access where you left off. Get access to your favorite inspiration bible verses whenever you need them!
★ Highlights
Use the highlight feature to make highlights in different colors. Then easily access them in the Highlights tab.
Other Features
★ User Friendly Interface
We hate clunky, difficult to use Bible apps that other Bibles use. That's why we created an easy to use interface, and aim to make this Bible app as simple and easy to use as possible
★ Search
Easy & Fast search any keyword, book names, or Bible verses to quickly find what you are looking for
★ Read Easier
Change the font settings directly when reading the Bible
★ Share
Inspirational & motivational Bible verses are meant to shared! Share your favorite Bible verses with friends easily
★ FREE
Most important of all, its FREE
New Features
★Customize your audio readings by adjusting Speed & Pitch in Settings
★Daily Notification. Default time is 8am local time. Turn on/off and set desired time in Settings
★Note taking!
Contains All 66 Books from the King James Bible, combining Old Testament and New Testament.
Genesis, Exodus, Leviticus, Numbers, Deuteronomy, Joshua, Judges, Ruth, 1 Samuel, 2 Samuel, 1 Kings, 2 Kings, 1 Chronicles, 2 Chronicles, Ezra, Nehemiah, Esther, Job, Psalm, Proverbs, Ecclesiastes, Song of Solomon, Isaiah, Jeremiah, Lamentations, Ezekiel, Daniel, Hosea, Joel, Amos, Obadiah, Jonah, Micah, Nahum, Habakkuk, Zephaniah, Haggai, Zechariah, Malachi, Matthew, Mark, Luke, John, Acts, Romans, 1 Corinthians, 2 Corinthians, Galatians, Ephesians, Philippians, Colossians, 1 Thessalonians, 2 Thessalonians, 1 Timothy, 2 Timothy, Titus, Philemon, Hebrews, James, 1 Peter, 2 Peter, 1 John, 2 John, 3 John, Jude, Revelation
This app is available as a free version with an in app purchase to remove ads. The ads serves to finance the app development. Try out the free version before u decide if u should get the in app purchase to remove ads for 99c usd.
OUR MISSION

Salem Web Network's mission is to connect with Christians through emerging technologies. Whether it's on the web or mobile computing, a dedication to our users, ministries and the Gospel is at the heart of everything we do.

OUR HISTORY

Salem Web Network (SWN) is the Internet division of Salem Media Group, America's leading radio broadcaster, Internet content provider, and magazine book publisher targeting audiences interested in Christian and family-themed content and conservative values. What began in 1999 with a single website, today consists of 21 global sites, including the most well-known brands in the faith marketplace such as Crosswalk.com, BibleStudyTools.com, and GodTube.com. With more than 59 million site visits every month and 31 million Facebook fans, SWN has the ability to provide a greater reach for your name acquisition campaigns, e-mail lists, and brand awareness.

In addition to Salem Web Network, Salem Media Group owns Salem Radio Network, which syndicates talk, news, and music programing to approximately 2,500 affiliates; Salem Radio Representatives, a national radio advertising sales force; and Salem Publishing, a leading publisher
of Christian-themed magazines. Salem owns and operates 102 radio stations in 39 markets, including 62 stations in 22 of the top 25 markets. Each of our radio properties has a full portfolio of broadcast and digital marketing opportunities.