Christian Apps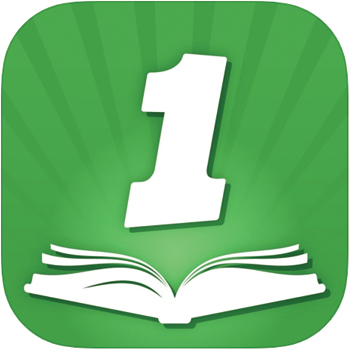 One Bible – Study Faith Daily
The One Bible app gives you free Bible versions to read, study, and grow from. Navigate by book, topic, passage, search and more. Let the Bible be read aloud to you with the Audio feature. Grow in your spiritual walk and join thousands of other Christians with the best-in-class Bible app available.
READ:
* Clear and easy to use app with simple navigation to read the Bible
* Get the most popular Bible versions
* Download Bibles for offline reading without an internet connection
* Listen to Audio Bible read aloud to you (available for select versions)
* View fully formatted Bible text
* Enlarge font and change background color for easier reading
STUDY:
* Write and Title notes
* Highlight and Underline Bible verses in multiple colors
* Backup and Sync notes, highlights, and bookmarks to all your devices with a free Just1Word profile
* See words of Jesus in red (most versions)
* Navigate the Bible quickly and easily
* Explore the Bible by topics, stories and more
* Save bookmarks
* Get exclusive devotionals, reading plans, and daily content
* Read publisher footnotes
* Keep track of your reading history, mark sections as read
GROW:
* Enjoy Verse of the Day to keep you engaged
* Share verses and links by Email, Text, Facebook, Twitter, and more
SMART SEARCH:
* Use the fast search as a study tool
* Most relevant results first
* Search the Bible by topic, passage or phrase
* Filter results to find things fast
The One Bible app opens directly to your Bible. No home screen with other content in the way. One Bible is free, reliable, clear, and straightforward.
ENGLISH BIBLE VERSIONS:
AMP – Amplified Bible
ASV – American Standard Version
CEV – Contemporary English Version
DRB – Douay Rheims Bible
ESV – English Standard Version Bible
GNT – Good News Translation
HCSB – Holman Christian Standard Bible
KJV – King James Version Bible
MSG – The Message Bible
NABRE – New American Bible Revised Edition (In-App Purchase)
NASB – New American Standard Bible
NCV – New Century Version Bible
NIrV – New International Readers Version
NIV – New International Version Bible (Audio Supported)
NIVUK – New International Version Anglicised
NKJV – New King James Version Bible
NLT – New Living Translation Bible
NRSV – New Revised Standard Version (In-App Purchase)
RSV – Revised Standard Version (In-App Purchase)
VERSIONES ESPAÑOL SANTA BIBLIA:
DHH – Dios Habla Hoy
LBLA – La Biblia de las Américas
NBLH – Nueva Biblia Latinoamericana de Hoy
NVI – La Versión Nueva Internacional
RVA – Reina Valera Antigua
RVR60 – Reina Valera 1960
RVR95 – Reina Valera 1995
TLA – Traduccion en Lenguaje Actual
OTHER BIBLE VERSIONS:
AA – João Ferreira de Almeida Atualizada
ACF – Sinta-se português Corrigida (1753/1995)
ARB – سميث فان دايك الكتاب المقدس باللغة العربية
CUV -中國版聖經聯盟
CUVS -中国协和版简体圣经
DELUT – Elberfelder Bibel
IRV – Versione Italiana Riveduta (1990)
KOU -コウゴ – 屋久島
KOR -한국어 성경
LND – La Nuova Diodati 1991
LSG – Louis Segond 1910
RUSV – Русская версия Синодального
SVEN – Svenska Bibeln
SV1750 – StatenVertalings 1715 Bijbel
UKR – українського Біблійного
OUR MISSION

Salem Web Network's mission is to connect with Christians through emerging technologies. Whether it's on the web or mobile computing, a dedication to our users, ministries and the Gospel is at the heart of everything we do.

OUR HISTORY

Salem Web Network (SWN) is the Internet division of Salem Media Group, America's leading radio broadcaster, Internet content provider, and magazine book publisher targeting audiences interested in Christian and family-themed content and conservative values. What began in 1999 with a single website, today consists of 21 global sites, including the most well-known brands in the faith marketplace such as Crosswalk.com, BibleStudyTools.com, and GodTube.com. With more than 59 million site visits every month and 31 million Facebook fans, SWN has the ability to provide a greater reach for your name acquisition campaigns, e-mail lists, and brand awareness.

In addition to Salem Web Network, Salem Media Group owns Salem Radio Network, which syndicates talk, news, and music programing to approximately 2,500 affiliates; Salem Radio Representatives, a national radio advertising sales force; and Salem Publishing, a leading publisher
of Christian-themed magazines. Salem owns and operates 102 radio stations in 39 markets, including 62 stations in 22 of the top 25 markets. Each of our radio properties has a full portfolio of broadcast and digital marketing opportunities.